With the growing skepticism over the government's inflation reporting and an increasingly volatile macroeconomic landscape, it is more important than ever for users worldwide to have access to a censorship-resistant inflation feed. As former Coinbase CTO Balaji Srinivasan mentioned, "We're entering an environment with huge incentives for official disinformation."
Last year, Srinivasan challenged Web3 developers to "build something better:'' a global, decentralized, and censorship-resistant inflation dashboard for a $100k prize that delivers data on-chain, with an additional $100k prize if built using the Chainlink Network. Balaji argued that current inflation indices such as the Consumer Price Index (CPI) may not be reliable because they are calculated by the same entities that have a vested interest in downplaying inflation. This emergent issue has never been as prominent as today.
In response to that challenge, the HydroLabs team built Truflation—a true inflation index designed to provide objective, decentralized, and frequent inflation updates possible. In January of this year, Truflation integrated Chainlink to bring its inflation index on-chain. And today, we're proud to announce that Truflation has been deemed the winner of the $100k inflation dashboard challenge.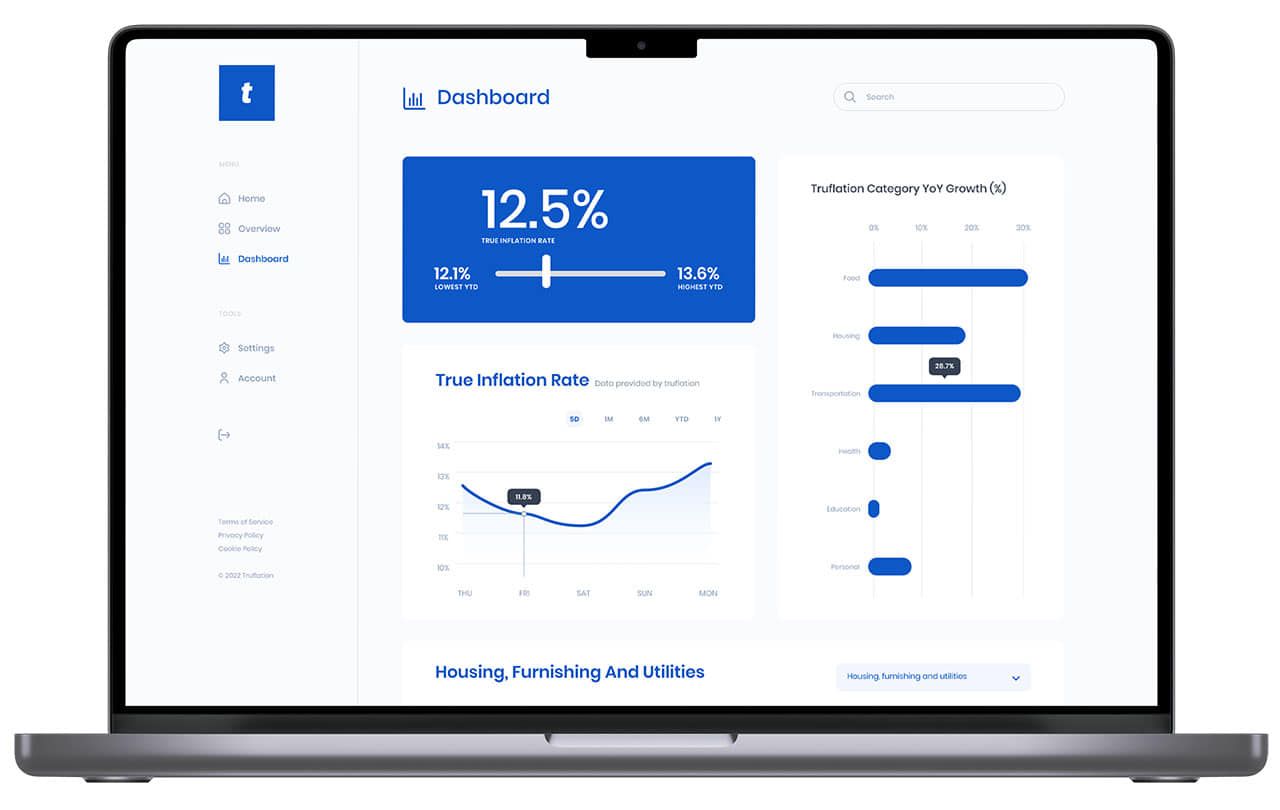 The Truflation Dashboard provides a real-time calculation of the US inflation rate and the price indexes for the separate CPI categories used to measure price inflation.
How Truflation Works
The basic idea behind Truflation is to move to a transparent, real-time, global on-chain calculation of the CPI. Unlike the government CPI, Truflation:
Measures and reports inflation changes daily
Is determined to use a developer approach to more accurately display price increases by utilizing multiple external data sources
Uses the most current real-market price updates
Has open-source data and transparent calculations
Truflation's first product is the US Truflation index, though many more fiat and crypto price indexes are expected to come.
The Truflation index is based on the calculation model for the most popular headline inflation metric in the world—the Consumer Price Index (CPI) by the US Bureau of Labor Statistics (BLS). However, Truflation utilizes real market data from multiple different data sources to more accurately reflect consumer spending habits and the real change in market prices across the American economy. Specifically, the Truflation price index regroups both main and sub-categories within the CPI and reassigns the weights and proportions based on relative importance. It also uses reputable outside data sources in an ongoing effort to remove reliance on CPI data.
Featuring transparent, open-source data collection and permissionless access to its inflation metric calculations, Truflation marks an important paradigm shift to decentralized inflation data. Based on the current data weighting, the Truflation price index reported the February US inflation rate at 12.1%.
Truflation Data Is Universally Relevant
Decentralized, censorship-resistant US inflation data has a variety of use cases across the Web3 economy. Delivering Truflation's inflation data on-chain through Chainlink Data Feeds allows us to reach the widest market possible and accelerate the rate at which builders can create inflation-protected products.
For example, developers can use Chainlink Data Feeds to access the Truflation's price indexes and create inflation-pegged stablecoins and other inflation-resistant DeFi solutions. These novel implementations would allow users to protect themselves against the often-unseen hand of inflation through the use of Truflation's decentralized calculation model.
Making Inflation Visible
Inflation is a critical benchmark for measuring the impact of yield and returns. There's a common understanding for all knowledgeable market participants: if you can't beat inflation, you're passively losing money (in purchasing power terms) every year. Truflation aims to put its price indexes and economic data to the forefront of Web3 users' minds, with tangible options to protect themselves against inflation through Chainlinked DeFi products.
About Chainlink
Chainlink is the industry standard for building, accessing, and selling oracle services needed to power hybrid smart contracts on any blockchain. Chainlink oracle networks provide smart contracts with a way to reliably connect to any external API and leverage secure off-chain computations for enabling feature-rich applications. Chainlink currently secures tens of billions of dollars across DeFi, insurance, gaming, and other major industries and offers global enterprises and leading data providers a universal gateway to all blockchains.
Learn more about Chainlink by visiting chain.link or reading the developer documentation at docs.chain.link. To discuss an integration, reach out to an expert.
About Truflation
Truflation is a provider of a daily, unbiased, data-driven, real-market US inflation rate and other economic data available on-chain to DeFi products and Web3 applications.
Our mission is to offer the most objective, decentralized, and current economic and financial information alternative in the form of on-chain price indexes to enable a new generation of blockchain products. We help developers create tools that help people maintain their purchasing power, navigate their portfolios through a challenging macroeconomic landscape, and propel the DeFi space into the new era of an inflation-proof and blockchain-powered economy.