The BLS CPI report for US inflation in June is due on July 13, 2022. Whilst we wait for the new data release, let's dive into the BLS May report and compare it to our May and June insights. What does independent data tell us about the US inflation rate, and what are the main inflation drivers?
The BLS CPI inflation rate for the 12 months ending May was 8.6%. The official inflation rate was lower than the Truflation figure of 10.6% on May 31, 2022.
The Truflation daily rates stayed consistently above 10% throughout May 2022.
According to our data, inflation has been slightly slowing down since March, but it remains consistently high across many categories in our index, available as separate daily YoY indices in our dashboard.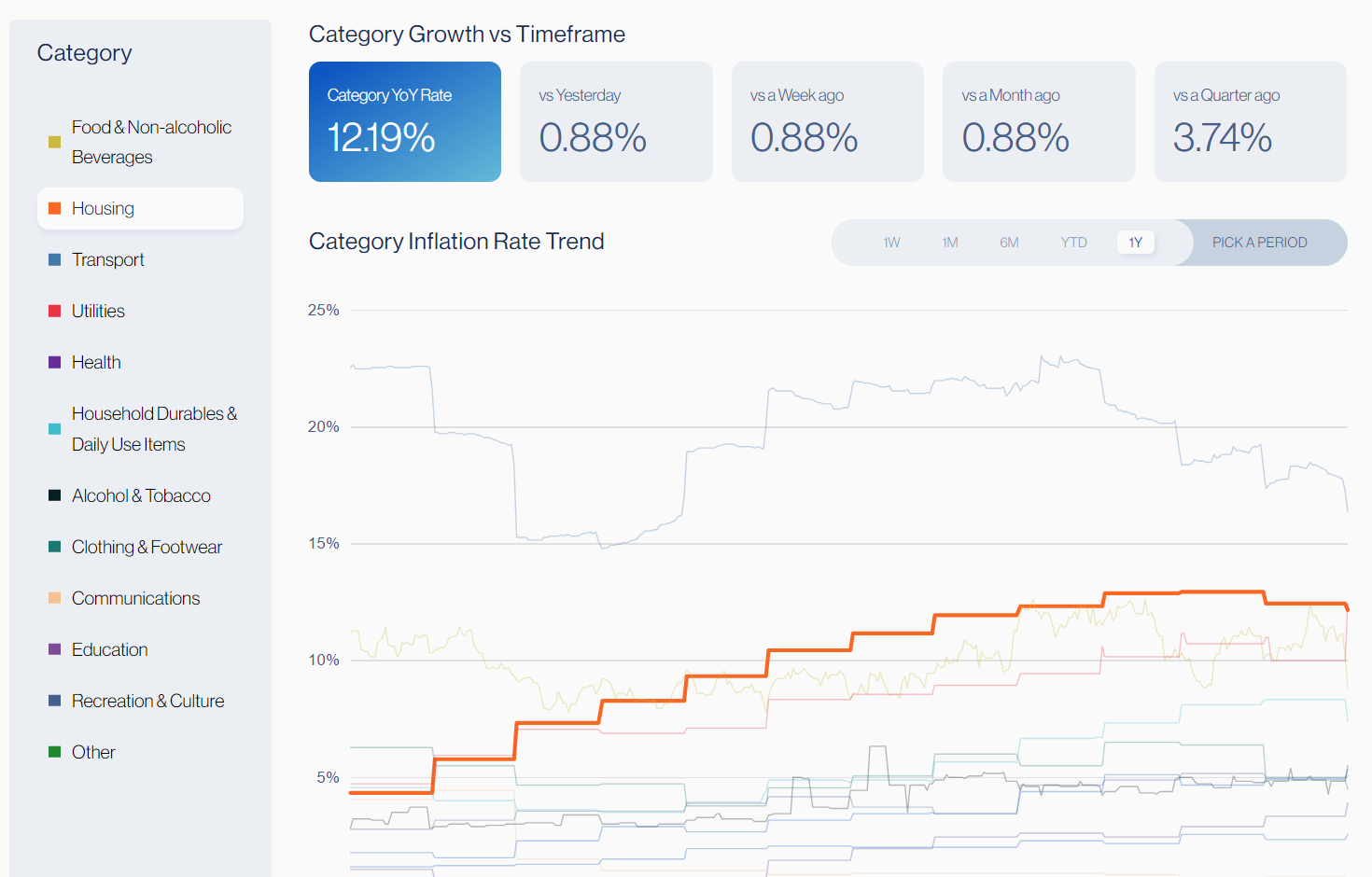 The Truflation food index increased by 11.2%, similar to the CPI food index, which showed the first increase of 10% or more since March 1981. All major grocery store indexes also rose by more than 10%, showing that companies are passing on the producer price increases to consumers in real-time, which aligns with Truflation's data for food prices.
The BLS CPI energy index rose 34.6% YoY, which is no surprise given the substantial YoY increases we have seen in energy-related categories across all areas of transport and fuel across the Truflation's indexes:
The Truflation Utilities were up 10.2% YoY on May 30, 2022, and since then, kept increasing to 12.5% YoY on June 27.
The Truflation Transportation index, which includes new cars, used cars, but also motor fuel was up by 16.9% YoY on May 30, 2022.
Gasoline, motor oil, and other fuels were up 54% YoY on May 30, 2022, and have since increased to an all-time high: 64% growth versus the previous year on June 15, 2022.  The prices of Gasoline and Diesel are still 60% higher on June 27, 2022, than they were a year ago.
The Russian oil sanctions, together with the lack of middle distillate refining capacity in Europe and the US, created the perfect storm, driving the cost of fuel oil and diesel to record highs, and there were no easy fixes to these production and supply constraints. As Russia was one of the biggest producers of refined products supplying Europe, there may be no way to 'replace' these products in the short to medium term.
Gasoline prices are biting into companies' and consumers' pocketbooks.  These massive increases in energy costs are feeding inflation across all sectors of the economy. As mentioned previously, companies are already pushing these increased costs onto consumers. And as consumers continued to lose their ability to absorb higher prices, we also saw weakening consumer sentiment and early signs of recession.
So what can we do about inflation? The Federal Reserve has chosen to go early and go hard with a 0.75% basis point increase for June and hawkish messaging around doing whatever it takes to tame inflation.  The market immediately priced in further aggressive rate tightening, with most economists forecasting that interest rates will be above 3.5% by the end of 2022 and keep going upward into 2023. The hikes reverberated across markets, pushing most stocks into the red.
Sadly, aggressive tightening in the short term will not 'force' inflation down while wiping significant value off the markets and propagating stronger recession signals. We may expect periods of high inflation and a slowing economy, commonly called stagflation, similar to the 1970s.
For a daily dose of US inflation data and price changes across 12 different consumer product categories, check app.truflation.com and follow us on Twitter.

About Truflation
Truflation provides daily, real-market price indexes and inflation data available on-chain through the Chainlink oracle network and off-chain via a free public dashboard and APIs.