We're excited to join the Chainlink Fall 2022 Hackathon as an official sponsor. From Oct 14 to Nov 18, Chainlink will run their biannual virtual event packed with webinars, workshops, and code-alongs where builders of all levels can learn how to use popular blockchain frameworks, create dApps, and use on-chain oracles.
They can also submit their original solutions solo or in teams to compete for prize pools of a combined 300k.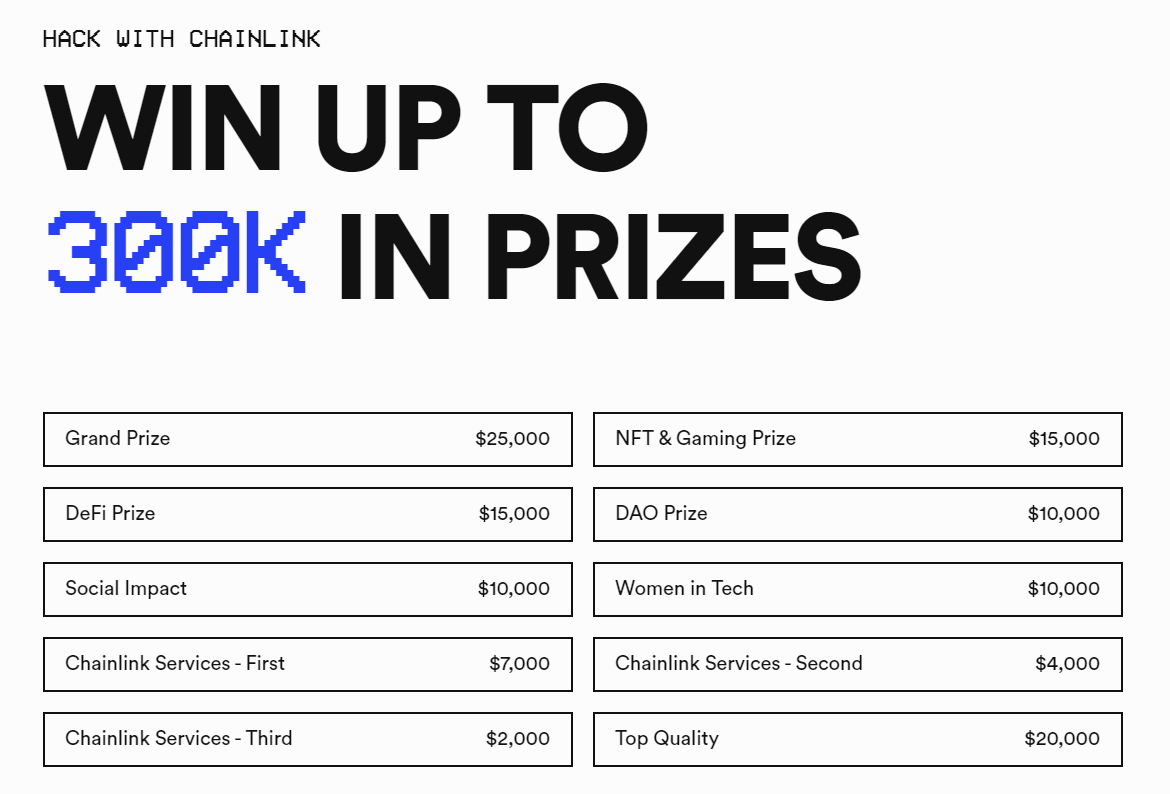 💰Truflation Prize
Truflation is offering a 10k prize pool for any team that qualifies for Chainlink Hackathon and uses our data or helps our infrastructure.
The top 3 top will win 5k, 3k and 2k accordingly, judged by our founder Stefan Rust on the originality, quality, functionality, and rationale behind using the data.
All participants of the Chainlink Hackathon should also check the requirements from the Chainlink organizers.
The winners will be announced on Friday, Dec 2, at the Chainlink Fall Hackathon closing ceremony.
"No matter your experience level, the Chainlink Fall 2022 Hackathon has the resources and mentorship you need to take your development journey to the next level." – Chainlink.
🏆Truflation's previous winners include:
Inflotto – a Truflation lottery raffle
Plation – a Truflation based prediction market
i-bonds – inflation-linked bonds
💻About Chainlink Hackathon
Chainlink Hackathons are the biggest Web3 event of its kind, with ~10k participants joining the last Chainlink Spring 2022 Hackathon and building 400 different projects.
Participants of all experience levels are welcome!
The registrations remain open throughout the event.
To qualify for rewards check Chainlink requirements and submit your solutions ahead of the deadline. You can participate in multiple projects and submit to many different tracks, but Patrick Collins suggests you focus on one project and make it great.
For those who only want to learn, you can join all the free workshops and learn the basics of blockchain development at your own paste, no experience required.
📈About Truflation Data
Truflation is an independent economic data aggregator powered by the Chainlink oracle network.
Our on-chain data includes:
UK and US independent inflation indexes
Price indexes for major categories of products and services: housing, food, transportation, utilities, durables, etc.
Consumer sentiment indexes
Commodity data feeds
DeFi Llama stats
NFT indexes (top 11, NFT categories, individual NFT collections)
Coming soon (still in October)
Football (Soccer) FIFA player stats
Various indexes for real estate
Custom
Ask us what data you need, and we might get it on-chain for you.
💡Potential Use Cases
The prize will be distributed to all projects that use the Truflation oracle data.  Some solutions you could consider building are:
Portfolio tracker corrected for inflation (Truflation)
Dynamic NFT that changes with our data
Risk analysis tools
Synthetic assets
Search engine to find investments that have higher yields than Truflation
We are also happy to brainstorm other projects with you that could help our infrastructure: help verify our data on nodes, touch on dao or incentivization, etc. If you want to build something like that, let us know on telegram or discord.
Important Links