Welcome to Truflation's first monthly digest!
So far, our blog posts have been concentrated on market commentaries, forecasts, and inflation data insights.  
But as you would have picked from our recent announcements, Truflation is scaling. With a flurry of feature launches, superior user experience, dynamic partnerships, and more, this report is the key to staying ahead of the curve.
TL;DR:
Product Launches
Truflation Premium
UK Price Index
Subcategories Beta
UX/UI improvements
New 'share' functions
Category descriptions
Truflation calculator
Product Launches
Truflation Premium
The launch of Truflation Premium is our first major attempt at democratizing access to real-time, unbiased inflation data at a more affordable price.
Truflation Premium offers full access to real-time market data from over 40 data sources and 10 million data points, reflecting consumer spending habits with significantly greater precision.
Truflation Complete includes the overall price index and in-depth data, and Truflation Index, which only provides the overall Truflation index and YoY%.
Both truflation Complete and Index only can be accessed as daily downloads for up to a year or one-time historical data downloads of up to 3 years.
Truflation Premium aims to become the benchmark for analysts, traders, quants, and DeFi teams building hybrid products, enabling tokenization of real-world assets and powering inflation-resistant decentralized systems.
Latest Beta Feature - Subcategories
Our newly launched feature - sub-categories allow us to help you discover insights that are not available anywhere else.  
By breaking down broad categories into smaller subcategories, we can now offer a more detailed and nuanced insight into the drivers behind inflation.
Currently, we have released two subcategories for 'Housing.' Once we have gathered enough feedback from the community and users, we will gradually add to the feature.
UK Price Index Upgrade:
This week we integrated 3 new data providers for Truflation's UK inflation index, including Zoopla and Rightmove.

Result? Enhanced breadth and granularity of data indexes and increased coverage for UK inflation measurement.
In addition to this, two existing data partners have expanded their category representation (Food, Household goods, Health, Alcohol & Tobacco, Clothing and Recreation, and culture categories), and we are injecting their new data into the Truflation index.
Notably, the addition of new data sets has impacted the truflation index by only 0.12% - indicating the accuracy & reliability of our current methodology.
UX improvements
Subtle improvements: better color contrasts and aligned charts.
The list of categories is now aligned to the left of the chart.
Improved category description
New 'Share' function for all charts
New features added to Truflation Calculator
Helpful tooltips, suggestions for 'average monthly spend' based on Truflation data for each category, and shareable graphs.
Partnerships
Nuon, the world's first flatcoin launches powered by Truflation oracle
Nuon is the first independent, overcollateralized, and decentralized flatcoin pegged to the value of unbiased inflation, protecting purchasing power. Truflation oracle provides Nuon with an inflation-adjusted target peg, ensuring holders' purchasing power is maintained.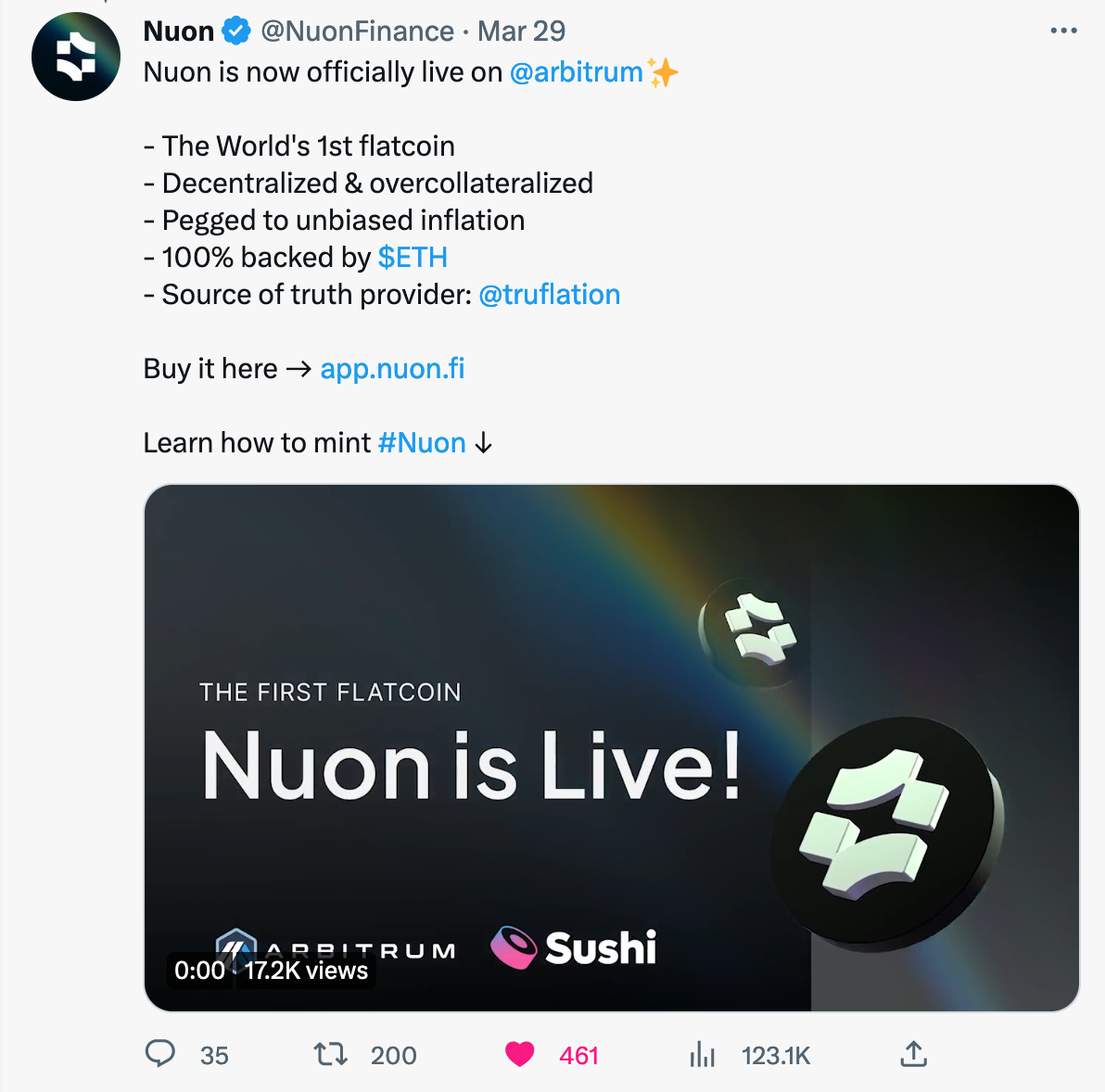 Space and Time
We have joined hands with Space & Time, a decentralized data warehouse built for smart contracts to:
provide a multichain web3 DevEx
quickly aggregate new off-chain data points into tamperproof, on-chain indexes.
If you're familiar with the Truflation data marketplace, you know how important it is to easily put new data on the blockchain and combine the existing data into new indexes and insights. So joining forces with a decentralized data warehouse is a wise strategy.
It means you will be able to access Truflation's real-world data with Proof of SQL cryptographic guarantees through a co-engineered robust API endpoint integration.
You won't need a single line of code to retrieve and publish data to our on-chain inflation indexes.
Chainlink Spring Hackathon
Truflation is the official Chainlink Hackathon sponsor. Hackathon starting on April 28 to June 9. Register HERE
Kwil
We have partnered with Kwil, a permissionless SQL database for the decentralized internet.
Kwil will assist Truflation in streamlining the storage and synchronization of its databases on the blockchain, enabling data decentralization and transparency.
Our long-term goal is to expand its data and builder frameworks with Kwil's enterprise-grade storage and database scaling architecture, and Kwil will gain new use cases for its permissionless databases.
Kwil's infrastructure is expected to aid us in building and managing complex relational database systems.
The partnership is expected to be mutually beneficial, with Kwil gaining market feedback to refine its product and Truflation achieving unparalleled data integrity.
Besides multiple product launches and platform improvements, we have made strides in community development and growth. Truflation community growth is up ↗️by 45%.
We've known from the start that Truflation was bound to gather a huge community quite fast. That's because the need for verifiable truth was so deep regarding inflation.
With the launch of Truflation Premium, the numbers are about to change once again. Opening up unbiased inflation data to anyone who needs it will turn the tables.
That's it for this month's briefing, data sleuths! Until the next one, keep an eye on our socials for updates, and keep sending us your feedback – it's highly appreciated!